Prairie Ridge Glow Run
Our Ridge Rockstar students have been working hard in PE to get heart-healthy and learn how to pace themselves while running, using a steady beat. To apply this hard work of getting more healthy and fit, we will celebrate with a free-will donation GLOW RUN! This year, caregivers 18 years and older will be able to attend this special event with their child! Unfortunately, younger & older siblings under the age of 18 are not allowed to join due to safety reasons. Please join your child for this free-will donation fundraiser to help purchase new recess equipment for our Ridge kids. This fun run will be held next week during your child's P.E. class Monetary donations may be sent to our school office the week of February 20th – 23rd and a "loose change box" will be available at the gym door each day. My hope is that you and your child will have a fun, memorable P.E. class that is kind to your hearts! Thank you for your support and consideration to give our kids the gift of PLAY!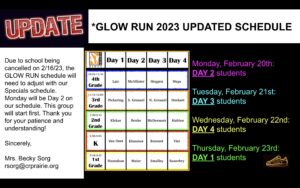 P.S. Please send a water bottle and proper gym shoes to school with your child on their P.E.